Skype guitar lessons allow you to learn guitar from your home using a laptop, PC/Mac, tablet, or TV (with an Xbox One). Instead of having the guitar teacher in the same room as you, you interact through video.
Online webcam guitar lessons are a little different from in-person lessons. But it's effective if you have a guitar teacher who understands how to give online lessons.
After reading this page, check out my online lesson information page for rates, eligibility and available times.
Why Learn Guitar Online?
Learning guitar online with a webcam is surprisingly similar to traditional lessons in person. I'll explain the differences between online guitar lessons and in-person lessons so you can decide what's right for you.
Here are the three main benefits of learning guitar online via Skype:
Learn from your home: You don't need to travel to the teacher's studio. You won't waste time traveling and don't need to pack up your guitar for each lesson.
Learn anytime you want:  If a local teacher can't fit you into their schedule, there's a teacher online that is right for you. You can access teachers in different time zones so you're able to learn at any time you want.
Access better teachers: with online lessons you have access to guitar teachers from around the world (I live in Australia). Even if you have good guitar teachers in your area, you'll likely find a better guitar teacher online that matches your needs as a student
These are pretty big benefits to Skype guitar lessons so let's dig into these a bit more:
Teacher location
The obvious difference is the teacher is not actually in the same room as you when you have an online guitar lesson. This means the teacher could be anywhere in the world (I'm in Australia). The big benefit to you is you're not limited to the teachers in your local area. Skype guitar lessons are great for people unable to find a guitar teacher that fits with them in their local area.
While the guitar teachers in your area may be experienced, the chances are you'll find a better teacher online that better matches your needs. Whether I'm the right teacher for you or not depends on your needs as a student. The main point is that you have access to far more teachers when you look at online lessons.
You're far better off taking online lessons with a great teacher compared to taking in-person lessons from an average teacher.
Learn from home
Not needing to travel to a guitar teacher's studio or home means you won't waste time out of your day. At the scheduled lesson time you load up the app and you're good to go.
Some guitar teachers offer lessons in your home and for many students, that's a convenient option. The benefit of online lessons is you don't need to let a stranger into your home. It's a safe and comfortable way to have lessons. I've taught quite a few students over the years who could never work up the courage to see a teacher in person due to social anxiety. They felt perfectly comfortable taking online lessons with me.
Learn when you want
Skype guitar lessons also give you flexibility over when you want to learn. Want to learn at 1:00 am? It would be pretty hard to find a local teacher to teach at that time but it's likely somebody on the other side of the planet will be able to teach you (like me). I've actually taught a couple students in the UK at 1:00 am their time which works out to 10:00 am my local time.
Type of lessons
The actual lessons are very similar to in-person lessons. We can do almost everything as we could with in-person lessons. As long as you understand the limitations of Skype guitar lessons, you will find them extremely effective and enjoyable. Here are the main limitations to online guitar lessons:
I'm not in the same room as you – that basically means I can't move your hand into position on the guitar or tune the guitar up for you. But, I've been teaching online enough to know how to quickly overcome this limitation
There is a slight delay between us – that means we can't play guitar at the same time. To overcome this limitation I will send you backing tracks as needed so you'll still be able to learn to jam or play along with songs
You need a decent internet connection for good quality video. If you can watch YouTube videos in HD without any problems, then you'll be fine with webcam lessons.
As you can see, the limitations of Skype guitar lessons aren't that bad. Everything else is the same as in-person lessons. Once you get used to the slight delay between signals, you won't even notice it.
Do Skype Guitar Lessons Work?
This is a common question students have when deciding to learn from a teacher in-person or online. The answer is it depends completely on the teacher. A bad guitar teacher won't help you improve whether they teach online or in-person. A great guitar teacher will help you make progress regardless of whether they teach online or in-person.
Think about any guitar lesson videos you've seen on YouTube. Some of them you probably learned a lot from. Other videos were probably confusing and unhelpful. It's the quality of the teacher that matters. A teacher who knows how to clearly explain topics will help you become a great guitarist.
Why I Teach Online Guitar Lessons
I had been teaching guitar in-person for quite a few years before I decided to also offer online lessons.
One reason why I started teaching online is that some of my students were traveling 30+ minutes to get to my home studio. Traveling that far is a big part out of a person's day and I wanted to give them a better option. By offering webcam lessons those students could experience the same quality lessons they were getting, but not need to travel. I want my students to get the most out of my lessons and if they don't need to spend time traveling to get to my lessons, that's more time they can spend practicing.
The other reason why I teach online lessons is to reach students who don't have access to good teachers. Some areas have great teachers and if you're in one of those areas, great. But sadly, there are quite a lot of bad teachers out there. Some teachers just see teaching as a job and don't really care about their students. Other teachers care, but they don't put time and effort into studying teaching methods and strategies. The result is they don't learn how to become better teachers.
If you ask your local guitar teachers what teaching methods or strategies they're currently studying, their response may shock you. Most teachers don't consider studying teaching methods. That might sound crazy, but they think being a good guitarist is all that's needed.
If you currently take lessons and your teacher doesn't spend time every week studying to become a better teacher, find a better teacher.
I give online lessons so students around the world can access somebody who does study teaching methods. I work on developing my teaching skills and I'm committed to becoming a better teacher. If you don't have access to a teacher who has the same dedication, I'm here to offer you lessons.
What's the Process Like to Get Started?
When you decide to start online lessons with me, we first need to work out a time that suits both of us. The chances are you will be in a different time zone than me, so we need to make sure the available times I have suit you.
If you find a time that works for you, I'll immediately put it on hold for you so you won't miss out on somebody else booking it in. I have very limited places so I will hold a lesson slot for 48 hours to give you time to decide if you want to go ahead or not. This way you won't miss out if somebody else suddenly wants to book a lesson the same time as you. So if you're interested in taking lessons with me, let me know what time you're interested in asap!
You can ask me any questions you might have about online lessons before you commit to a minimum of four lessons. I'll give you a guide on how to test your webcam and how to prepare for your first lesson.
If you're happy to go ahead, you make a payment on my website and we'll schedule the first lesson. On the day you'll receive a link to access the lesson area in your browser (or app depending on your device) and we'll have the lesson.
After each lesson, I'll send you an email with any advice on what to work on over the next week. I'll also include any relevant resources such as backing tracks or transcriptions.
What Do I Need for Skype Guitar Lessons?
There are a few different ways you can take online guitar lessons. Here are the different types of devices you can use for Skype guitar lessons:
PC/Mac with a webcam
If you have a PC/Mac with an inbuilt webcam (most new models have one), you're all set! When we organize our lesson time I'll go through what app/software we use for our lessons and I'll show you how to get started.
If you don't have a laptop with an inbuilt webcam and you want to use your PC/Mac, you can buy one separately. The webcam I use is a Logitech C922. The Logitech C920 (shown below) is a slightly older model but is incredibly popular and cheaper. You can either clip the webcam on to the top of your monitor, or you can use a small tripod to place it on a desk. There are plenty of alternatives, but a good quality webcam will cost less than $100.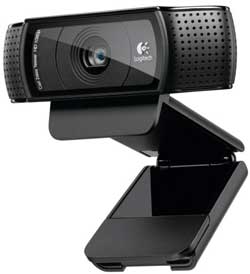 Tablet/smartphone
The bigger the screen, the easier it is for you to see what I'm doing on guitar. If you have a tablet and can stand it upright, it can be used for online lessons. It's also possible to use a smartphone, but I don't recommend it. You're not going to get the best experience from a tiny screen. I've only had one student use a smartphone for our lessons and it only worked because the student was able to mirror the screen to her TV.
If possible, I highly recommend using a PC or Mac as the larger screen makes a big difference during lessons.
Payment Method
The payment method I use for online guitar lessons is PayPal. PayPal is a secure method of payment and allows you to transfer money anywhere around the world. As my rates are in US Dollars, PayPal will automatically convert your local currency to match the rate in USD.
The reason I use PayPal is that they handle and protect your financial details. I will have no access to any of your details so you can feel confident in making a payment.
My Lesson Rates and Available Times
If you're interested in taking online guitar lessons with me, check out this page for details on rates, eligibility and available times. I have very limited spaces so check out the available times to make sure I have something that works for you.
If you have any questions on how online guitar lessons work, contact me here and I'll answer your questions.