Super Colossal by Joe Satriani (with TAB) | Guitar Lick Spotlight
About the Song: Super Colossal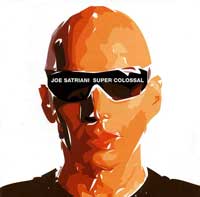 Super Colossal is the title track from Joe Satriani's 2006 album. It's a simple song with very easy licks. Unlike other Satriani songs, which tend to be more improvisational or more like an extended guitar solo, Super Colossal is heavily focused on composed melodies.
If you're just getting into Joe Satriani's work this song is fun to play, especially if you have the right effects pedals.
About the Guitarist: Joe Satriani
Joe Satriani is one of my biggest inspirations. A lot of my students enjoy learning Satriani songs as they can be technically challenging, but still have an excellent sense of melody.
I've written more about Joe Satriani in other Lick Spotlights, so check out the lick to Thunder High On The Mountain for more info.
Super Colossal Guitar TAB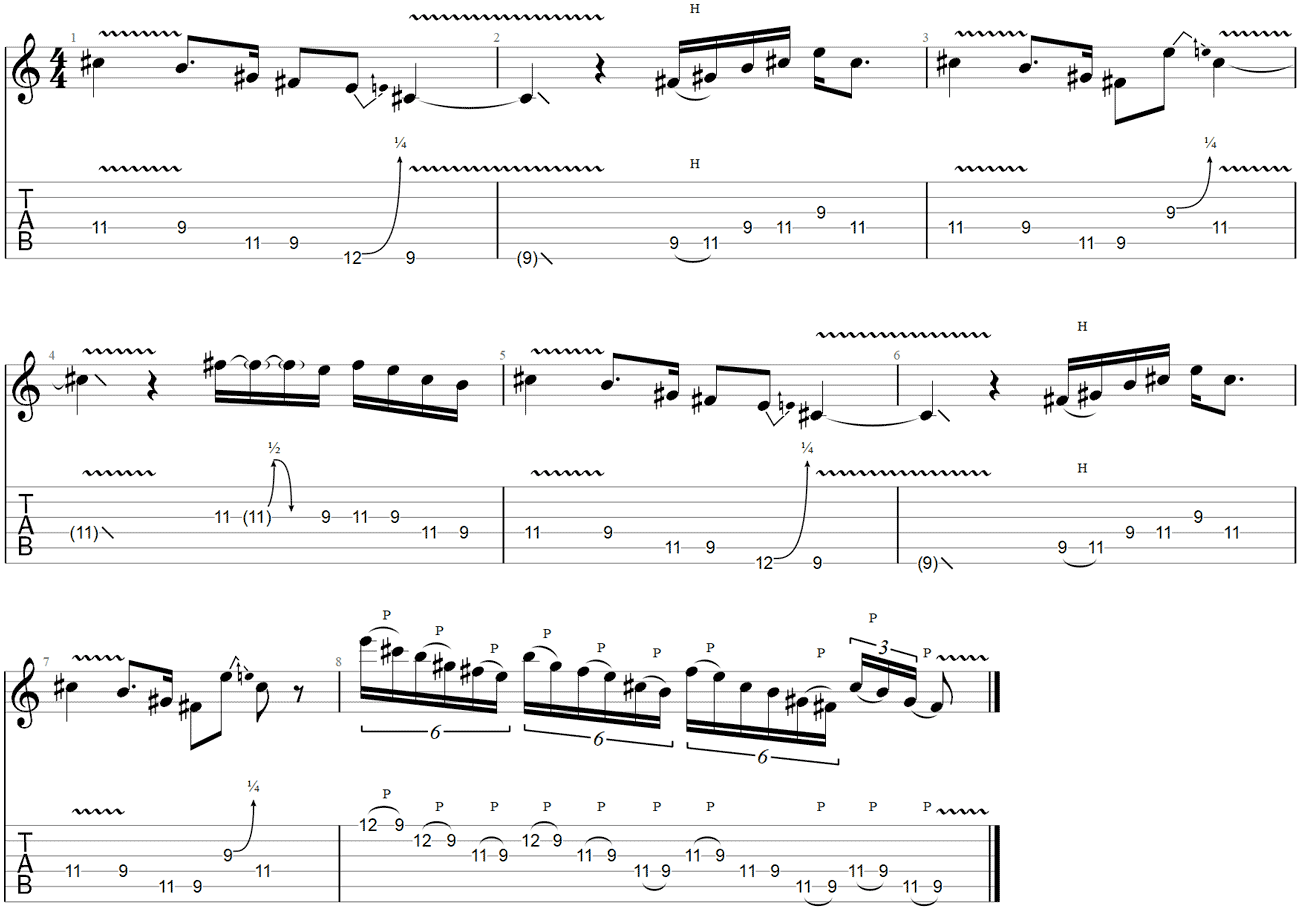 What I like About This Riff
This lick is an excellent example of how you can use effects pedals to change the way you play.
If you play this lick without the effects pedal needed (explained later), it's not going to sound very interesting. On it's own, the lick is fairly dull. But when you add in the effects, it adds so much energy. It becomes an incredibly fun lick to play as every note, bend and slide suddenly has so much more attitude and intensity.
Guitar Lick Video
Music Theory Analysis
If you have learned the Minor Pentatonic box shapes, it should be obvious what is happening in this lick. The entire thing is based on C# Minor Pentatonic. It stays entirely in the first box shape, so if you're learning that scale this is a great lick to practice.
What makes this lick interesting is the bends. All of the bends you see push the notes outside of the scale. If you're new to improvising, you might think that playing notes outside of the scale is wrong. Outside notes can sound wrong, but they can also sound great when used properly.
The bends in this lick help add to the colossal sound Joe is going for. The slow quarter bend on the 12th fret is a great example of how a slight bend can change the feel of a lick. Bending that note slightly out of tune adds character. Try playing the lick without the bends and you'll hear how much those out-of-key bends add to the vibe.
Technique and Practice Tips
The idea behind this lick is to have a massive sound. A great way to do that is to exaggerate everything. This means slow down any slides in or out of the notes, pick the notes hard, and use wide vibrato. By exaggerating what you play, it gives the octaver more to work with.
What's important here is that you don't start off by trying to exaggerate everything. Start off by learning the lick and be very accurate with what you do. Use a metronome and try to keep everything in perfect timing. Think of this as 'practice mode'. In practice mode, you need to be very critical of every note and make sure you play it perfectly.
Then after you master the lick, you can change your focus to 'performance mode'. In performance mode, it's okay if some notes are slightly out of time if it adds to the feel of what you're playing. The goal of performance mode is to squeeze more life into what you're playing.
For the very last descending run, use a metronome to gradually build up the tempo. You want those notes to flow out of your fingers with ease. It shouldn't sound like you're pushing yourself. The only way to achieve that is with consistent practice and gradually bringing the tempo up. This is something I often help my students with, so if this is new to you it might be something I can help you work on in Skype lessons.
Guitar Tone Tips and Gear
This lick works because of the effects used. If you try to play this lick without the right effects, it's not going to sound or feel very interesting.
What gives this lick it's crushing sound is an octave pedal. This is a type of pitch effect that takes what you play and shifts it up or down an octave. To learn about octave pedals and other effects in detail, check out my Guitar Effects Course here.
Joe uses an EHX Micro POG for this song (read my review on the Micro POG here). The Micro POG (or the smaller Nano POG) has three knobs as shown below: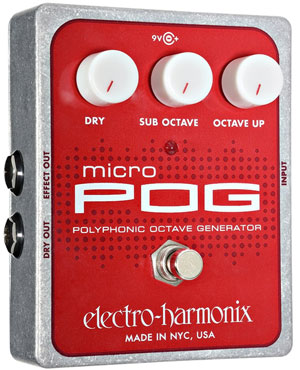 The 'DRY' knob adjusts the level of your regular guitar tone. The 'SUB OCTAVE' adjusts the level of a pitch-shifted tone one octave lower than normal. This means if you turn all the other knobs down and turn this one up, you will hear your guitar sound one octave lower than normal. The 'OCTAVE UP' knob adjusts the level of a pitch-shifted tone one octave higher than normal.
With these three knobs, you can create a nice range of different sounds. In Super Colossal, all three knobs are used. You mainly hear the normal tone and the octave lower tone. But a little bit of the octave higher tone is mixed in. I recommend experimenting with different levels for each knob to find the sound you enjoy the most.
As I explain in my very popular Guitar Amp Settings guide, don't bother searching for presets or exact settings online. You'll learn far more by experimenting with the gear you have.
I also recommend adding in a delay pedal to help add to the massive sound you hear in this song. Adding a subtle delay can take single-note licks and riffs like this one and fill out the sound. Don't go overboard or you'll end up with a mess, but a subtle delay can really add to this song.
Take This Riff Further
Joe Satriani has a great guitar tone and this song is a great example of how he's able to incorporate effects into his songwriting. To learn more about his gear and effects, check out my Guide on Joe Satriani here.
If you want to learn more about the pitch shifting effects used in this song, or learn about other effects pedals, check out my Guitar Effects Course here.
This song is great fun to play and very easy to learn. If you need a hand learning the song, or you want to take the song further and learn how to write your own songs in this style, I can help you with Skype Guitar Lessons. We can work through this song, any other Joe Satriani song, look at improvising over this song, write your own instrumental music in this style, or anything else. If there's something you want to work on, contact me here to find out if I can help you.